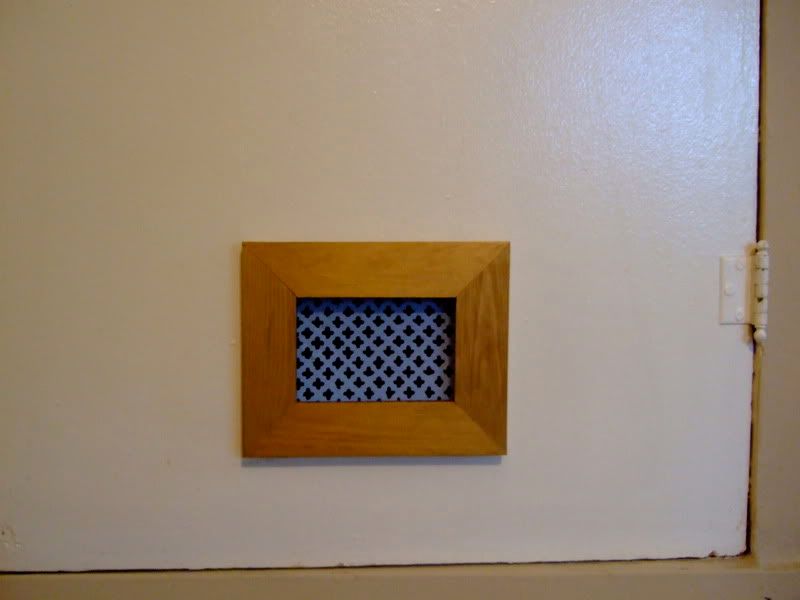 The doors to the water-heater closet in my new house had a little screen cut into them. I'm not sure why exactly, but I wanted it to be a focal point- a little paint and a trip to Wall-mart for the frame later, voila!
I went to Carbondale for the weekend for a Hunsaker family reunion-- Hunsaker was my Paw-Paw's mother's family (Paw-Paw = grandpa) and every year the descendants get together at Giant City state park. I didn't go last year and I wanted to check on my Nannie (what I call my mom's mom... when I was born she felt she was too young to be called 'grandma'), she just had a pacemaker ... installed? My brain's not working right, the whole weekend was a blur of people and memories.
Nannie's at Memorial Hospital. I could go the rest of my life and never go back inside, but it seems I'm destined. Maybe I'm suppose to work in Medical Anthropology or something-- hospitals suck and someone ought to make them better- we all dump enough time and resources in them anyway. I didn't want to leave with so many things up in the air, but didn't have much choice.
Kitt's going to come see me this weekend I think.
The reunion was nice, even though I came too late for food. It was nice to see mom's cousins and my Paw-Paw's aunt Loa. Loa is 101 years old, about to be 102. It makes me smile to hear my grandpa defer respectfully to his elder aunt.
School is challenging, although not in the ways I had anticipated. I absolutely adore my adviser, she's tops. I won't embarrass myself by going into details in a public blog. Speaking of my blog-- who reads this thing anyway? I always wonder...