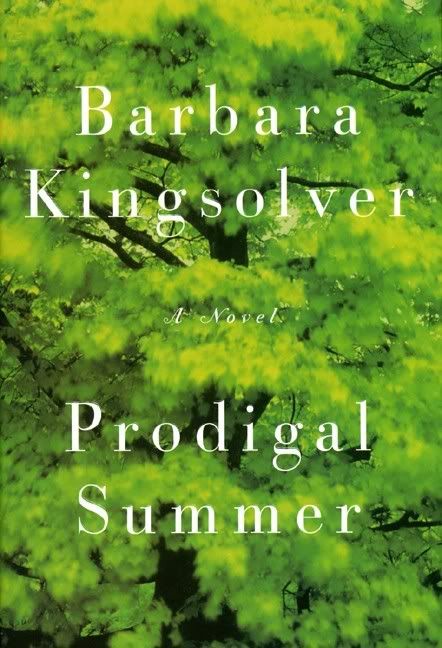 A review of Prodigal Summer by Barbra Kingsolver:
Over the course of one steamy summer three lives are intertwined, refreshed and enriched in Zebulon County, a rural land somewhere in Appalachia. Kingsolver follows the lives of three people in Zebulon County and each chapter alternates between Moth Love, Chestnut trees, and Predators, named after each character's private obsessions.
Sometimes when I read novels set up this way I fall for one of the characters and the rest of the chapters are just a precursor to their story, however, I loved each and every character in this book, and savored every sentence.
Moth Love is the story of Lusa, a mixed heritage entomologist struggling to find her place on the farm. Her ancient farmhouse is filled with ghosts: her family, the childhood of her husband, his relatives, his scent. The ghosts are Lusa; she must learn to live with them before she can accept who she is and how she wants to live her life.
Old Chestnut: Garnet is a sanctimonious old fart. I loved this character, but I'm finding it rather hard to write about him. His family made a fortune logging chestnuts, the blight took it and he has had to work hard his whole life: he's not complaining, it's just how it is. His hobby is crossing American chestnuts with the blight resistant Chinese chestnut, half the time he considers the immortality they will bring him, half the time he realizes that unless he changes no one will ever see, let alone care about his Chestnuts. He is like the chestnut trees: the omnipresent memory of vitality and strength in tradition— yet technically extinct.
Predators: Deanna lives on the mountain; her mountain. Completely isolated from society she protects the mountain and all it's deliciously detailed lives. Deanna delivers some of the best lines in the book: "All the really good animals are extinct", and "thanks for this day, for all birds safe in their nests, for whatever this is, for life", both of which I find quite beautiful. Her thing is coyotes; she is tracking one family who has made an unprecedented stay in her forest. Deanna is overwhelmed by the need to keep their presence a secret; the local farmers love to hate all predators.
I love the detail, I loved the easiness of reading, I loved the reoccurring themes of sex, verdant and streaming, of survival, of pure self-obsessed joy in living. The best thing is while each story was told, with a clear beginning, middle and end, it is equally clear none of the stories are over, that no story can end, truly.