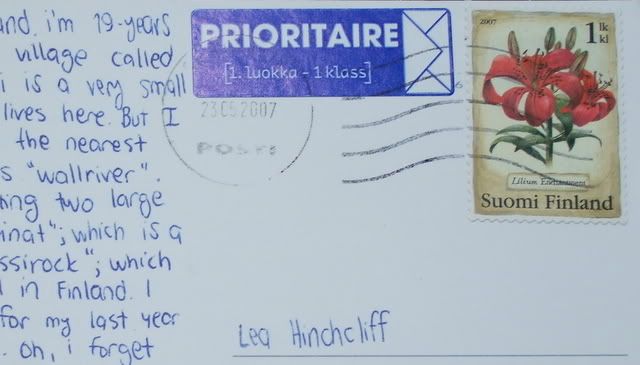 I got my first postcard from postcrossings! By far the coolest thing I've found on the web in a long time:
postcrossings
is
the creation of Paulo Magalhães. The goal is to allow people to receive postcards from around the world. Send a postcard, and your name goes in the database to receive a post-card. I love getting stuff in the mail, I love writing, I love communication, and I really like canceled stamps, so postcrossings is awesome, in my humble opinion.
But apparently I'm not the only one who loves mail. There have been over 50,000 postcards sent through postcrossings, as well as flicker groups and message boards created and regularly visited by some users.
There are so many good things to say about this project: the best is the stamps, I think. The next best is communicating with a person in a part of the world I've never heard of before.
The one drawback is the increased cost of postage overseas-- .90 in the USA, and they don't yet have .90 stamps so I'm stuck doing third grade math again.
I love the history maps in postcrossing, it's neat to see the lines connecting the postcards and people.